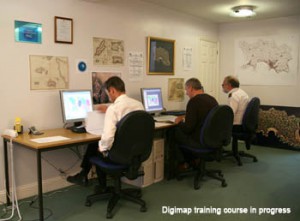 Digimap is delighted to provide you with details of training courses for our Mapping and GIS customers.
We have designed a set of standard training courses for each of the Geographic Information System and Mapping products that we supply and support.
We hold these sessions at our offices at 69 Halkett Place, St Helier where we are able to accommodate up to four delegates at a time.
We can also offer bespoke training sessions, tailored to specific business/staff needs, if this is more convenient.
Normally we hold all sessions at our offices but in certain circumstances it might be possible to stage training at your place of business.
For further details on our training courses, please contact Glen Kehoe phone +44 1534 769069.